Product Description
District ultrasonic water meter is designed for reliable flow measurement for municipal, commercial and industrial applications,
Nominal diameter: DN50-DN300
Applications: Tap Water Distribution System (Municipal, commercial, Industrial etc.)
Product Features
♦Optional communication interfaces: M-BUS, RS485, LoRa Wireless, Pulse ect, GPRS and NB-IoT.
♦Meter offers a complete range of NB IoT Automatic Metering Reading (AMR) solutions, which provides a unified platform for meter reading and data management remotely.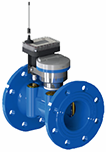 ♦Automatically records the daily total of the last 2 years and monthly total of the last 24 months
♦Low starting flow
♦No moving parts, wear-free ultrasonic technology,Maintenance-free
♦No optical-electrical conversion needed, digital remote communication
♦Multi-channels design, reduces straight-pipe run requirement
♦Bi-directional flow
♦Conforms with GB/T 778-2007 and CJ/T 434-2013 Ultrasonic Water Meter standards
Overall Dimensions

| Nominal Diameter | DN50 | DN65 | DN80 | DN100 | DN125 | DN150 | DN200 | DN250 | DN300 |
| --- | --- | --- | --- | --- | --- | --- | --- | --- | --- |
| L mm | 200 | 200 | 225 | 250 | 250 | 300 | 350 | 450 | 500 |
| W mm | 165 | 185 | 200 | 220 | 250 | 285 | 340 | 405 | 460 |
| H1 mm | 150 | 158 | 175 | 181 | 199 | 217 | 246 | 272 | 320 |
| H mm | 235 | 248 | 264 | 287 | 320 | 355 | 410 | 452 | 550 |
Technical Parameters
Model Nominal
Diameter
DN50
DN65
DN80
DN100
DN125
DN150
DN200
DN250
DN300
MTW-9
R100 Q3 ⁄Q1(m3⁄h)
25⁄0.25
40⁄0.4
63⁄0.63
100⁄1
160⁄1.6
250⁄2.5
400⁄4
630⁄6.3
1000⁄10
MTW-6
R160 Q3⁄Q1(m3⁄h)
25⁄0.16
40⁄0.25
63⁄0.39
100⁄0.6
160⁄1
250⁄1.6
400⁄2.5
630⁄3.9
1000⁄6
MTW-6
R250 Q3⁄Q1(m3⁄h)
25⁄0.1
40⁄0.16
63⁄0.25
100⁄0.4
160⁄0.6
250⁄1
400⁄1.6
630⁄2.5
1000⁄4
MTW-6
R315 Q3⁄Q1(m3⁄h)
25⁄0.08
40⁄0.13
63⁄0.2
100⁄0.3
160⁄0.5
250⁄0.8
400⁄1.3
630⁄2
1000⁄3
MTW-6
R400 Q3⁄Q1(m3⁄h)
25⁄0.06
40⁄0.1
63⁄0.16
100⁄0.25
160⁄0.4
250⁄0.6
400⁄1
630⁄1.6
1000⁄3
MTW-6
R500 Q3⁄Q1(m3⁄h)
25⁄0.05
40⁄0.08
63⁄0.13
100⁄0.2
160⁄0.3
250⁄0.5
400⁄0.8
630⁄1.3
1000⁄2
MTW-2
R160 Q3⁄Q1(m3⁄h)
63⁄0.39
63⁄0.25
100⁄0.6
160⁄1
250⁄1.6
400⁄2.5
630⁄3.9
1000⁄6
1600⁄10
MTW-2
R250 Q3⁄Q1(m3⁄h)
63⁄0.25
63⁄0.25
100⁄0.4
160⁄0.6
250⁄1
400⁄1.6
630⁄2.5
1000⁄4
1600⁄6
MTW-2
R315 Q3⁄Q1(m3⁄h)
63⁄0.2
63⁄0.2
100⁄0.3
160⁄0.5
250⁄0.8
400⁄1.3
630⁄2
1000⁄3
1600⁄5
MTW-2
R400 Q3⁄Q1(m3⁄h)
63⁄0.16
63⁄0.16
100⁄0.25
160⁄0.4
250⁄0.6
400⁄1
630⁄1.6
1000⁄3
1600⁄4
MTW-2
R500 Q3⁄Q1(m3⁄h)
63⁄0.13
63⁄0.13
100⁄0.2
160⁄0.3
250⁄0.5
400⁄0.8
630⁄1.3
1000⁄2
1600⁄3
MTW-1
R160 Q3⁄Q1(m3⁄h)
 
100⁄0.6
160⁄1
250⁄1.6
400⁄2.5
630⁄3.9
1000⁄6
1600⁄10
2500⁄16
MTW-1
R250 Q3⁄Q1(m3⁄h)
 
100⁄0.4
160⁄0.6
250⁄1
400⁄1.6
630⁄2.5
1000⁄4
1600⁄6
2500⁄10
MTW-1
R315 Q3⁄Q1(m3⁄h)
 
100⁄0.3
160⁄0.5
250⁄0.8
400⁄1.3
630⁄2
1000⁄3
1600⁄5
2500⁄8
MTW-1
R400 Q3⁄Q1(m3⁄h)
 
100⁄0.25
160⁄0.4
250⁄0.6
400⁄1
630⁄1.6
1000⁄3
1600⁄4
2500⁄6
MTW-1
R400 Q3⁄Q1(m3⁄h)
 
100⁄0.25
160⁄0.4
250⁄0.6
400⁄1
630⁄1.6
1000⁄3
1600⁄4
2500⁄6
Starting Flow m3⁄h (changeable)
0.02
0.025
0.03
0.035
0.05
0.07
0.1
0.15
0.25
Channels
Quad Channels
Six Channels
Pipe Joint
Flange (Body Pressure: PN16( Default); other pressures
Accuracy Class
Class 2( Class 1 Optional)
Pressure Class
MAP16(MAP10, MAP25)
Environmental Class
C
Electromagnetic Class
E1(E2)
Pressure Loss Class
▲P25 (▲P63, ▲P40, ▲P16, ▲P10)
Flow Field Sensitivity Class
U5⁄D3 (U10⁄D5, U3⁄D0, U0⁄D0)
Temperature Rating
T30 (T50, T70, T90)
Recording
Automatically records the daily total of the last 2 years and monthly total of the last 24 months
Communication Interfaces (Optional)
Infrared, M–BUS, RS485, 4–20mA, Lora, GPRS , Pulse, NB–IoT
Power Supply
DC3.6V (Non-rechargeable Lithium Battery)
Metering Cycle
1 time⁄S
Average Operating Current
≤20µA
Selection Description
♦MTW District Ultrasonic Water Meter follow below order specifications: