The Pioneer Vape Detector is equipped with advanced features such as smartphone integration and app alerts. It's capable of detecting smoke from vapes and assessing PM2.5 and CO2 concentration, ambient temperature and humidity, as well as noise, in real time. The test results are conveniently displayed on an app via Wi-Fi connection, in collaboration with the mobile terminal.
It is ideal for environments such as schools, hotels, libraries, and offices.
App Features:
View real-time test results, historical air index, and alarm records (for continuous history, ensure the device is powered on at all times).
Alerts are sent when the product is tampered with or knocked.
The app sends an alarm when vaping is detected.
Fire alarm push notifications.
Configure alarm values for temperature, humidity, PM2.5, and CO2, and receive alerts for abnormal levels.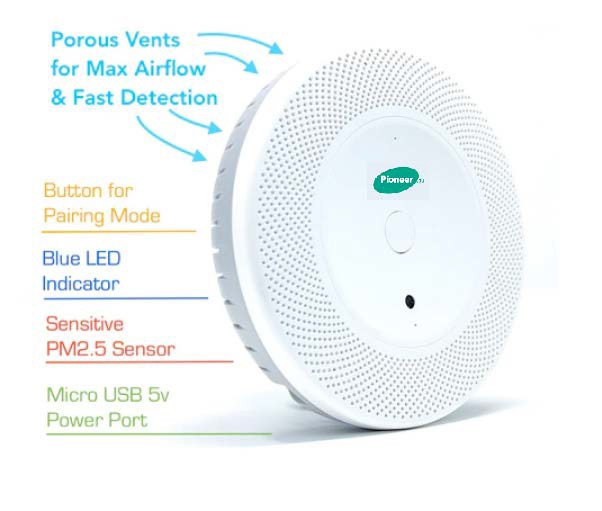 | Specification | Value |
| --- | --- |
| Product Dimension | 140*140*36mm |
| Input | 5V, 1A |
| Battery | 1500mAh Lithium Battery |
| Temperature Detection Range | -10°C to 60°C |
| Humidity Detection Range | 0% to 100% RH |
| Noise Detection Range | 30dB to 130dB |
| CO2 Detection Range | 400PPM to 2000PPM |
| PM2.5 Detection Range | 0μg/m³ to 999μg/m³ |
| Work Environment | 0°C to 40°C, 10% to 90% Humidity |
| Storage Environment | -20°C to 60°C, 10% to 90% Humidity |
| Connection Type | Wi-Fi |
| System Support | iOS 9.0 or above / Android 6.0 or above |
| Vibration Sensor | Vandal and Tamper notifications |
| Vape detection range | 0-2mg/m³ |
| THC detection range | Meets DET/DOE Requirement |