The edge technology provider delivers an integrated 5G small cell solution that simplifies deployment and accelerates performance.
5G is primed to unlock amazing opportunities and advancements. But making the most of them requires new approaches to network infrastructure.
As more small cell nodes are deployed to provide high-performance 5G connectivity, communications service providers (CoSPs) and enterprise organizations need to rethink their underlying infrastructure strategy to ensure optimal business results. By opting for commercially available Intel-based servers instead of dedicated appliances, they can realize a more open and flexible 5G network that doesn't compromise critical performance requirements. These flexible compute nodes power the Open RAN and network functions virtualization (NFV) technologies that are essential to realizing 5G's full value.
This shift is top of mind for CoSPs and enterprise businesses. They're exploring how they can best roll out the integrated compute and connectivity technologies they need at each small cell node—including RAN infrastructure, baseband units (BBU), 5G core infrastructure, and application servers.
To help pave the way forward for 5G small cell deployments, Pioneer IoT used Intel® 5G and processor technologies to create an integrated, application-ready, and portable 5G small cell solution.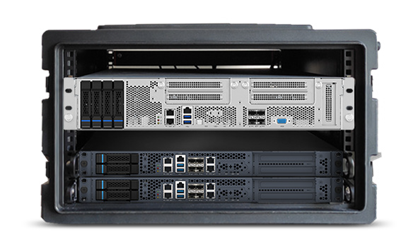 The Pioneer IoT 5G small cell solution integrates hardware and software small cell essentials such as 5G core, application server, RRU, and BBU in a 19″ luggage cabinet.
A streamlined approach to 5G deployment
This solution provides the software and hardware components needed for high-performance 5G small cell deployments in a tightly integrated and portable package.
Making this 5G small cell solution a reality required the Pioneer IoT team to select elements that could best illustrate the potential of an open, virtualized approach to the 5G edge. The team worked closely with their partners to build a comprehensive solution.
Using this small cell solution, our system integrator partners and CoSP customers can kick-start the process of transforming network infrastructure for 5G.
It provides the essential elements they need to quickly deploy 5G small cell nodes in production environments or for proof of concept needs. It's an application-ready platform that enables success at the 5G edge for both CoSPs and enterprise businesses
Remote radio unit (RRU)
Hardware: SageRAN 4T4R RRU
5G baseband unit (BBU)
Hardware: MECS-7211 edge computing platform with Intel® Xeon® Scalable Silver/Gold processors, PCIe-A100 FEC acceleration card
Software: SageRAN 5G RAN protocol stack
Reference architecture: FlexRAN™
5G core network
Hardware: MECS-6110 edge computing platform with Intel® Xeon® D processors
Software: ASTRI 5G Core
Application Server
Hardware: MECS-6110 edge computing platform with Intel Xeon D processors
Expansion unit
Extends the connection distance of RRU and BBU
Key benefits of the solution
The Pioneer IoT 5G small cell solution provides the power and flexibility required to make the most of 5G in a convenient form factor that systems integrators can easily use for proof of concept needs.
By leveraging NFV and COTS servers, the Pioneer IoT 5G small cell solution enhances network flexibility and promotes vendor interoperability. High-performance Intel® technologies ensure the rapid throughput required by advanced 5G applications.
The Pioneer IoT 5G small cell solution integrates RAN, 5G core, RRU, BBU, and application servers to deliver ultralow latency and high-speed communication experiences. Consolidating RAN and 5G core workloads on a single node reduces costs, streamlines deployment, and simplifies management.
To help systems integrators more easily demonstrate proof of concept, the Pioneer IoT 5G small cell solution is offered in a 19″ luggage cabinet that's easy to deploy and transport.