At Pioneer, we want to establish a one-stop turnkey EV AC & DC Charging
solutions that enable we are your first choice when it comes to implement
EV AC & DC charger projects.
Pioneer DC charging station is the latest generation of EV charging device.
It charges electric vehicles (EV) in DC/AC modes. and charges up three cars
simultaneously.
The station can dynamically allocate total power to the outputs. according
to users demands or to the availability of the grid. For example, if there are
two same cars connected to a 60KW station, the station can dynamically
allocate 30KW to each of them. If one is disconnected, the total power
(60 kW) is dynamically supplied to the remaining one. This flexibility always
ensures avaliabilty and high efficiency on all outputs.
DC charging station is specifically designed with a modular structure
to ensure maximum flexibility and to allow for upgrades. even after
installation. Therefore. we can supply a variety of charging powers and
configurations that range from 60 kW to 360 kW.
Key Specifications
3-gun synchronous charging (2 DC + 1 AC).
The modular structure 20/30/40KW. Power modulars could be stackable.
Dynamic allocation on DC outputs (Constant power module).
IP55, IK10.
Maximum rate of 95% charging efficiency.
Highly efficient heat exchange to ensure operation in any weather.
CE certification (prior to customer requirements).
Signal and Control
7-inch touchscreen to display the charging information.
RFID Reader, Credit Card POS optional
Emergency stop button.
LED indicator.
OCPP 1.6 Json protocol (free upgrade to 2.0 in the future).
Network interface: Ethernet (WIFI, 3G/4G LTE as optional).
Connector Type
Multiple configurations (CCS2, CHAdeMO, GB is customizable), and Type2
(up to 43KW optional)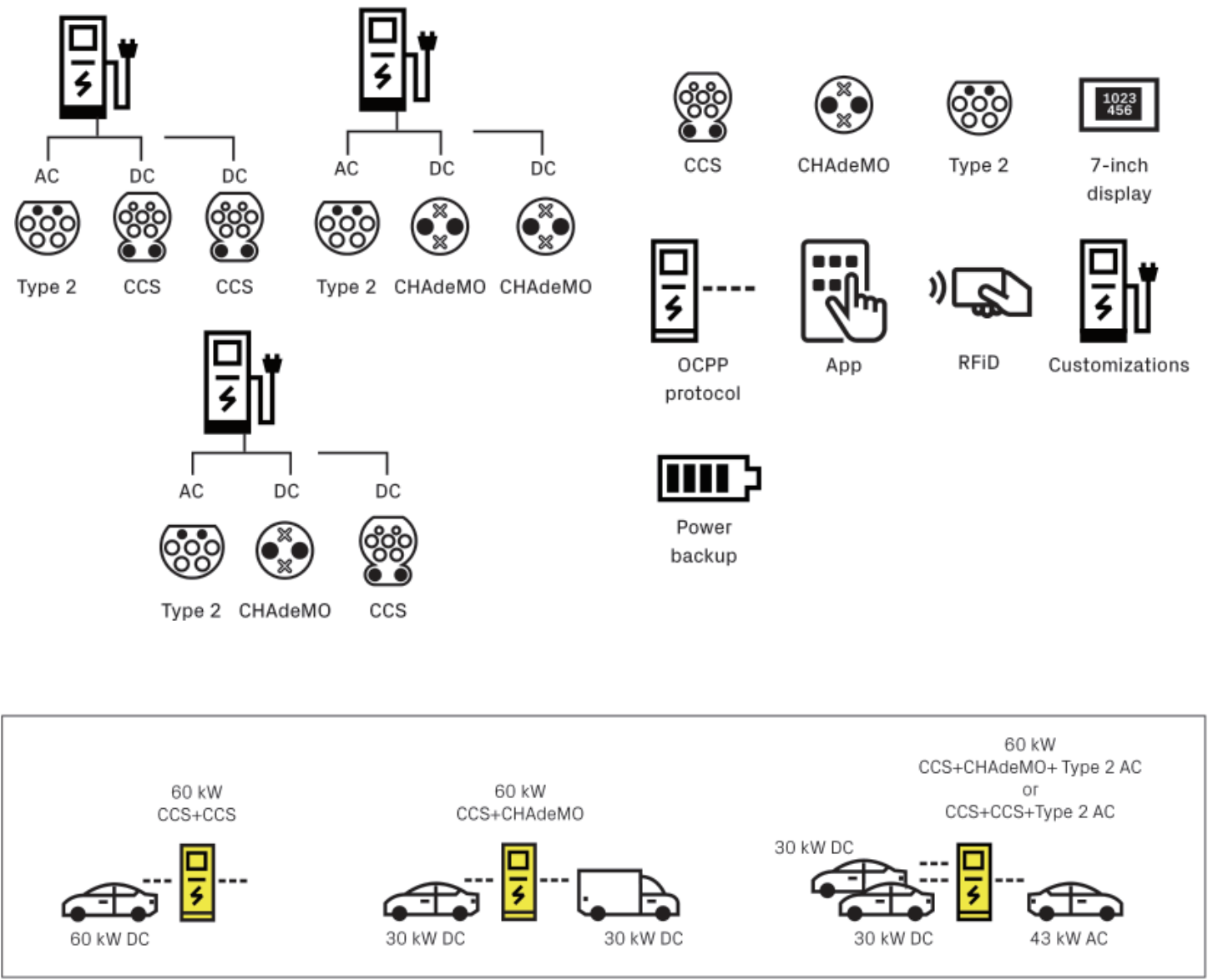 Rated supply voltage
OOV AC

±

10% (3P + N + PE)
Ground system type
TT or TN (both with PE)
Maximum rated capacity
110kVA
143kVA
176kVA
210kVA
Maximum rated current
159A
207A
255A
304A
Power factor
0.99%
Maximum efficiency
> 95%
THD
< 5%
Frequency
50-60Hz
Charging method
Mode 3 , Mode 4
Available sockets
CHAdeMO, CCS2, GB, Type2
Maximum AC output power (Type 2)
43KW
Rated AC output voltage (Type 2)
400V AC ± 10%
Rated AC output current ( Type 2)
63A
DC output rated power (CCS)
60KW
90KW
120KW
180KW
DC output rated voltage (CCS)
150 ~1000V DC
DC output rated current (CCS)
200A
DC output rated power (CHAdeMO)
30-120 kW
Rated DC output voltage (CHAdeMO)
150-600V DC
Maximum DC output current (CHAdeMO)
200A
DC output rated power (GB)
60KW
90KW
120KW
180KW
DC output rated voltage (GB)
150-750V DC
Maximum DC output current (GB)
250A
Dimensions
724 x 820 x 1855 mm (LxWxH)
Charging cable length
4M, 5M, 6M
Weight
320 kg
335 kg
360 kg
400 kg
IK protection level
IK10
Shell material
Galvanized steel
Pollution level
PD3
IP protection level
IP55
Operating temperature
-25~50

°

C
Storage temperature
-30~70

°

C
Humidity
0~95% (non-condensing)
Max Elevation
2000m
Cooling
Forced-air cooling
Connection to the power supply
Permanent
Indoor/Outdoor installation
Indoor/Outdoor
| | |
| --- | --- |
| Fixed or detachable installation | Fixed |
| Electric shock protection measures | Class1 |
| Measuring accuracy | MID certified (Level 0.5) |
| Network Interface | Ethernet (WIFI, 3g/4g LTE as optional) |
| HMI | 7-inch touchscreen |
| Emergency stop button | Supported |
| Supported languages | English, Spanish, Italian, and French. Others on request |
| LED status | Green, Red, Blue |
| OCPP protocol | 1.6 JSON |
| Standards | IEC61851-1, IEC61851-21-2, IEC61851-23, IEC61851-24 |
| Certificate | RCM SAA CE |