Pioneer Advanced Metering Infrastructure(AMI) System with Smart Power Meters
More than 250 AMI setups are running in different countries
Our product has been exported to more than 60 countries
More than 5 million smart meters are now running in these power grids
Advanced Metering Infrastructure
Pioneer's Advanced Metering Infrastructure (AMI) system is the technology of automatically collecting data from energy metering devices and transferring that data to a central database by communications technologies for remote control and analyzing. This AMI system is composed of a power management terminal, a regional summary meter, user power meters, a local communications channel, a remote communications channel, management software, and other equipment. Power companies can build AMI systems to replace manual meter reading to save human resources, reduce meter reading costs and improve meter reading efficiency and success rates.
Pioneer's AMI system reduces the error rate, loss of electricity, and eliminates mistakes like false readings that can be made by personnel. Our AMI system can also monitor the status of user's meters and raise the alarm if there are any abnormalities. It also collects data from regional summary meters for calculating line losses.
Combining many advanced IT and communications technologies Pioneer's AMI system is tailored to satisfy the various needs of power companies operating in different environments. The system is developed using Java based on Enterprise-class J2EE standards. It is based on a three-tier technical architecture (client / middleware / server / database server) and the core business is deployed on one or more J2EE application servers as the middleware. It has excellent openness, scalability, flexibility and high reliability, and the software can deployed on Windows, UNIX and other major operating systems.


Smart Meters
Pioneer K22 Single phase smart energy meter is the latest developed products in Pioneer IoT's meter series. Certificated with MID and DLMS/COSEM, it provides an excellent and stable accuracy and performance. The meter is equipped with a plug-and-play communication module such as PLC/RF/GPRS/3G/4G/NB IoT/Cat M1 for AMI integration, so all the operations can be done remotely from the central server, including meter billing/configuration/credit purchase/alarm events upload etc. The meter supports exchangeable payment between prepayment and post payment, and it keeps records of different tampers which can be configured to switch off the load supply when the tamper occurs.
Product integrity is maintained by tamper detection and magnetic immunity. The meter is equipped with communications ports to support AMI applications, in accordance with the DLMS/COSEM standard. An integrated relay enables the remote connection and disconnection of the consumer's electricity supply. The meter's application software can be upgraded via local or remote communications.
Functions
K22 is an advanced bi-directional, 4-quadrant, multi-functional, static single phase revenue meter that is designed for residential and small commercial consumers. It contains the following main features.
Support Bi-directional and Uni-directional measurement
Prepayment/post-payment mode switching
Active/Reactive energy measurement
MD (maximum demand) measurement
Load profile record
Programmable auto scroll / push-button display item
Screw sealing
Tamper detection
Event log / Alarm / Event notification
RTC and calendar management
DLMS/COSEM compliant
Plug-and-play modularized design for RF/GPRS/3G/PLC/4G/NB IoT/Cat M1 communication
AMI integrate
Options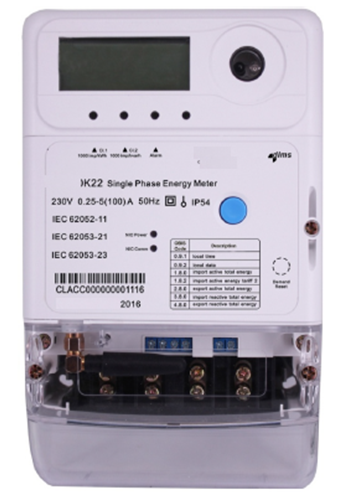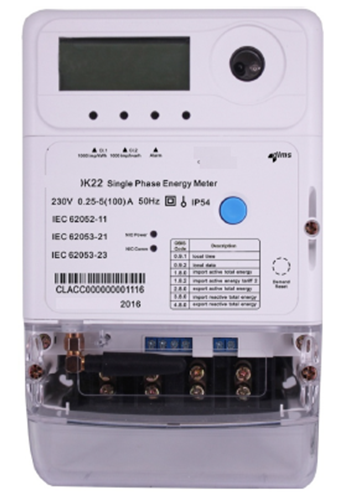 Multi tariff (TOU/TOD, Tier)
Electrical pulse output
Optical / RS485 for local communication
Remote (dis-)connection
Remote-firmware update
Data notification(Push)
Magnet detection
External replaceable battery
Technical Parameters
| | |
| --- | --- |
| Item | K22 |
| Rated Voltage | 120~240 V |
| Working Voltage Range | 0.7~1.3 Un |
| Rated Frequency | 50Hz and 60Hz ± 5% |
| Current | 5(60)A, 5(100)A |
| Staring Current | 0.4%Ib |
| Voltage Circuit Power Consumption | 1.5W; 4VA |
| Current Circuit Power Consumption | <=0.3VA |
| Display | LCD |
| Meter Constant | 1000 imp/kWh, 1000 imp/kVarh |
| Operating Temperature Range | -25°C ~ 70°C |
| Storage Temperature Range | -40°C ~ 70°C |
| Relative Humidity | ≤95%, non-condensing |
| Accuracy kWh / kVarh | Class 1 / Class 2 |
| Ingress Protection | IP54 |
| Insulation Protection | Class II |
| Communication Interfaces | 1RS485, optical port, PLC/RF/Cellular/3G/4G/NB IoT/Cat1 M1 |
| Dimension H × W × D mm | 217.4×130×82.5 mm |
| Weight | ≈0.93kg |
| Resistance to heat and fire class | V0(all the casing made out of heat-resistant and fire-retardant material) |
Dimension Figure