About this technical documentation
Introduction
This manual is a quick guide to the operation and maintenance of the Ultrasonic Gas Meter, models Ugr.
The manual contains important instructions to prevent accidents and serious damage before start-up, during operation, and to ensure trouble-free operation in the safest possible way. Before using the product, read this manual carefully, familiarize yourself with the operation of the product, and strictly follow the instructions.
This manual is based on the latest information. It is provided subject to alterations. We reserve the right to change the construction and/or configuration of our products at any time without obligation to update previously shipped equipment.
Ultrasonic Gas Meter
General
The Ultrasonic Gas Meter is a sophisticated, ultrasonic gas flow meter manufactured by Pioneer. It has been specifically designed for residential gas measuring applications that demand a high degree of accuracy and reliability.
Applicable standards
The Ultrasonic Gas Meter is manufactured to be in accordance with European Standard: EN14236-2007.
Calibration
When using the Ultrasonic Gas Meter, most countries demand (by law) a calibration from a certified calibration institute, supervised by an inspector of quality and measures.
Dashsheet
Parameters
Unit
G1.6
G2.5
G4
Nominal measured flow Qnom
m³/h
1.6
2.5
1.6/2.5/4.0
Maximum measured flow Qmax
m³/h
2.5
4
6.0
Minimum measured flow Qmin
m³/h
0.016
0.025
0.040
Lowest flow rate Qstart
m³/h
0.004
0.004
0.004
Error
– Qmin ≤ Q < 0,1Qmax
– 0,1Qmax ≤ Q ≤ Qmax
%
± 3.0
± 1.5
± 3.0
± 1.5
± 3.0
± 1.5
Transitional flow rate Qt
m³/h
0.1Qmax
0.1Qmax
0.1Qmax
Maximum working pressure Pmax
kPa
50
50
50
Pressure Loss at Qmax
Pa
≤200
≤200
≤200
Counter capacity
m³
999999,999
999999,999
999999,999
Minimum counting division
m³
1
1
1
Ambient temperature tm
°С
-25 to +55
-25 to +55
-25 to +55
Gas temperature range tg
°С
-25 to +55
-25 to +55
-25 to +55
Base gas temperature tb
°С
15
15
15
Storage Temperature
°С
-30 to 70
-30 to 70
-30 to 70
Humidity
%
≤95
≤95
≤95
Power supply
Li battery
Li battery
Li battery
In- and outlet pipe screw
iNCH
G11/4 (ISO228)
G11/4 (ISO228)
G11/4 (ISO228)
Distance between inlet and outlet
mm
110
110
110
Protection Level
Class
IP66
IP66
IP66
Mass, not more than
kg
2.5
2.5
2.5
Overall dimensions
mm
228*104*152
228*104*152
228*104*152
Medium
NG
NG
NG
Design Lifetime
Year
15
15
15
Roduct Description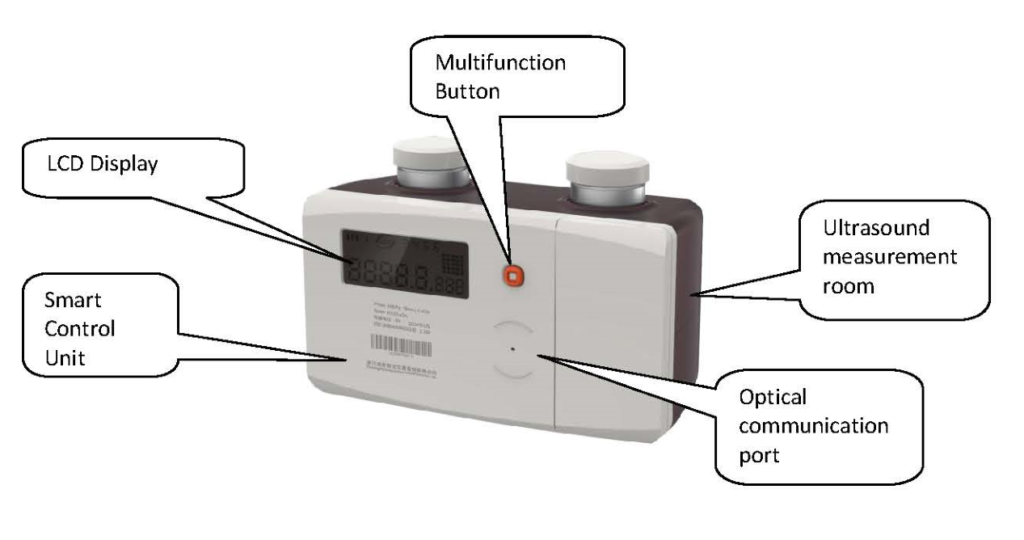 Ultrasound Measurement Room
The ultrasound measurement room is a complete sealed room where gas flow is measured. The gas flow channel, ultrasound sensors, signal process board, temperature sensor and shut off valve are built in this room.
Smart Control Unit
The smart control unit consist data calculation, storage, LCD display, valve control, local optical port communication, calibration, a D size Li battery and so on.
LCD
The LCD display all the information and parameters, such as gas consumption, working condition, temperature, Meter number, firmware version and so on.
Optical Communication Port
PC, Hand held unit or test bench can communicate with meter through optical port to do the calibration, configuration and so on.
Multi-function Button
This button is used for activate LCD display, optical port enable and activate the open of shut off valve with the authorization from system command.
Labels and nameplates
Nameplates and labels are used to identify the product and to provide details on the specific product. Together with the product manual it specifies how the product is certified and designed.
Installation
This Chapter describes the important notes for the installation of gas meter.
Installation in the horizontal position.
Note the direction of gas flow ( arrow )
Ensure that there is sufficient installation and operation space.
Ensure unobstructed view of LCD display and replace the battery.
Connections: G11/4'' ISO228 – The U-GR Ultrasonic meter is designed with High level protection, so it can be installed in the house and outside of house without additional box.
Operation
This chapter describes how the Ultrasonic gas meter can be operated through the LCD, button and optical communication port.
Meter reading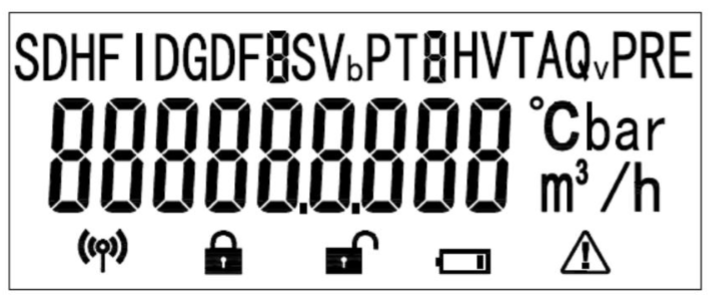 LCD provide an overall status indication of the meter.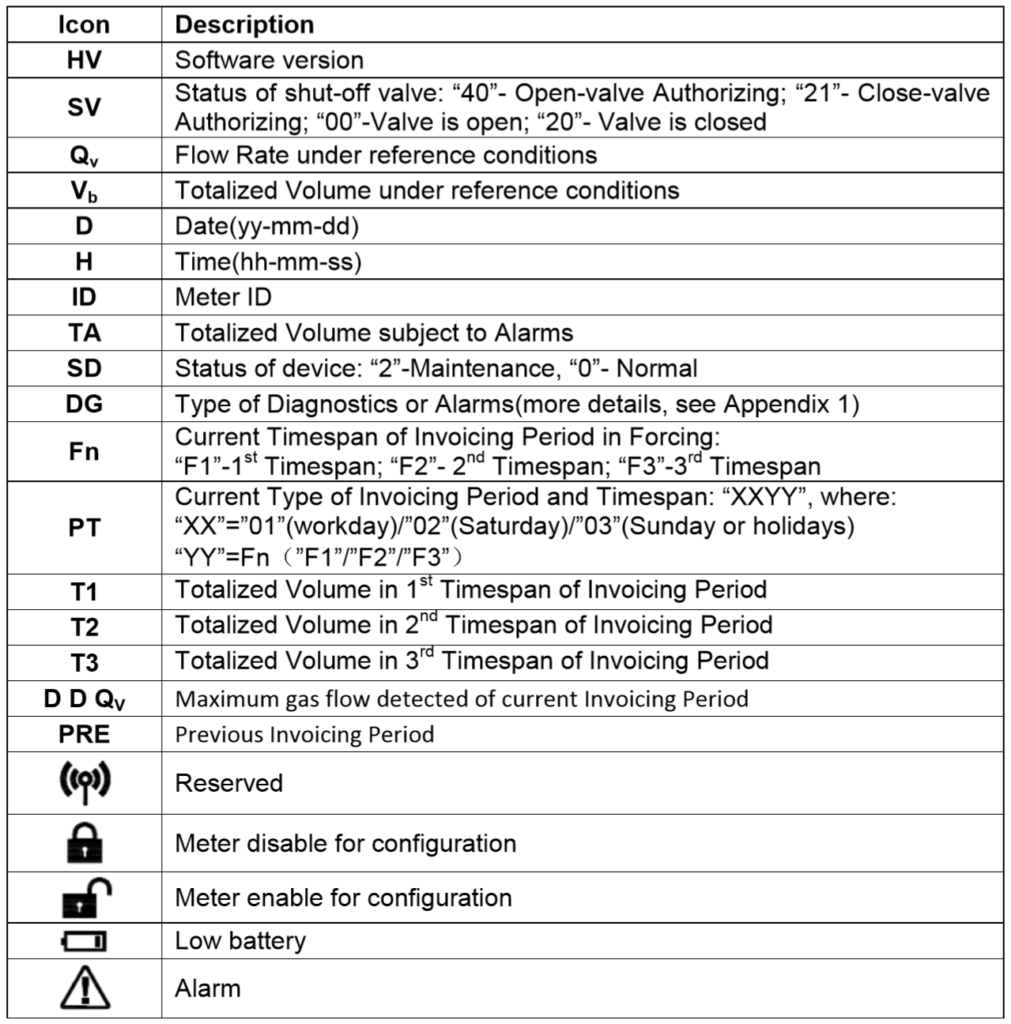 Standard/Testing mode
When meter is installed in the field, it should be kept in the Standard mode. The testing mode is only for meter accuracy testing in the factory. When in the testing mode, there will be a digit increase quickly to indicate the test mode; the resolution of volume will be 4 digits. The temperature compensation will be closed. the RED LED will blink according to the gas flow rate which can be used to high efficiency accuracy calibration with Pioneer's own designed test bench. The change between Standard/Testing modes only can be executed by the professionals from Gas Utility.
Valve operation
The inside valve is the key part of this smart ultrasonic gas meter. The valve can be configured to automatic close once the below events occur:
Detect the abnormal gas flow(Leakage)
Detect the reverse gas flow;
Real time clock
The meter has an internal real time clock which supports the Tariff, billing functions.
Billing
This meter records the previous invoicing period billing data which can offer the gas company a precise and efficiency billing solution.